The Light of Africa worth RMB 134 million
103.49 carats D color flawless white diamond|The Light of Africa worth RMB 134 million
The 103.49-carat D-color flawless white diamond named "Light of Africa" changed hands at Christie's New York on June 8 for US$20.08 million (RMB 134 million) with commission, with an average value of US$194,000 per carat. .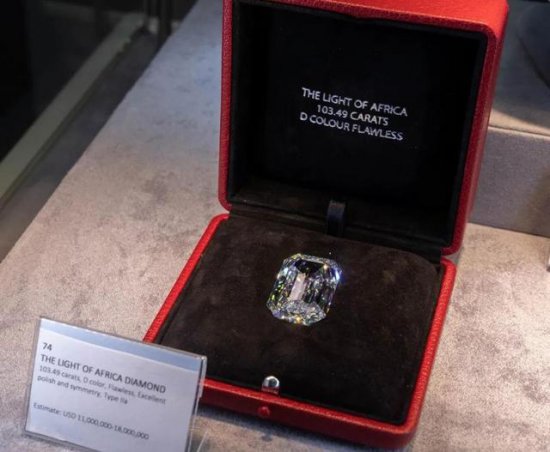 Looking back at last month, Christie's brought the largest white diamond in auction history - The Rock in Geneva. As a result, the 228.31-carat giant diamond changed hands for US$21.9 million with commission, with an average value of US$95,900 per carat.
Although the transaction price is slightly lower, if the value per carat is compared, the Light of Africa is higher than The Rock. The reasons behind it will be explained below.
Lot 74 The Light of Africa
103.49 carats D color flawless
Type IIA Emerald Cut White Diamond
Weight: 103.49 carats
Condition: D color
Clarity: Flawless (FL), Type IIA
Estimate: US$11,000,000 - 18,000,000
Hammer price: US$17,200,000
Sold price: US$20,084,000
Let's compare the two with the 4Cs that value white diamonds. The first C - carat (Carat), 103.49 carats is already very significant, and it has always been only a dozen at auction. At 228.31 carats, The Rock is a Big Mac, the largest white diamond ever to be auctioned.
In terms of weight alone, African Light cannot be directly compared with The Rock, but in other aspects such as fineness and clarity, the former is better.
The second C - Clarity, the African Star is a perfect grade of Flawless. The third C - Color (Color) is the highest grade of D, and the last C - Cut (Cut), also obtains the highest grade of Excellent (Excellent).
In contrast, The Rock is a VS1 class 5 clarity and a class 4 G color.