Sotheby's Hong Kong, HK$121.6 million, sells the first top diamond without reserve price
On October 5, Sotheby's presented an oval D color flawless diamond weighing 102.39 carats at a single special auction in Hong Kong, which was finally sold for 121.6 million Hong Kong dollars (approximately US$15.7 million).
It can cause a sensation in the jewelry circle. Presumably, there must be something special about this diamond and this auction. Let's take a look at it one by one! First of all, for this diamond, there is a description in the GIA Monograph: "Of all the diamonds certified by the Gemological Institute of America (GIA) and weighing more than 1 carat, less than 0.5% are assessed as D color Internally flawless, or D-color flawless. D-color flawless diamonds are already very rare, and diamonds weighing 102.39 carats are even rarer."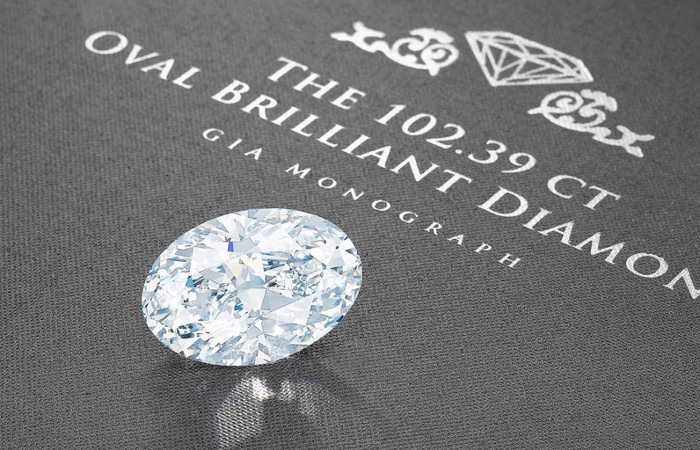 In addition, this diamond is the second largest oval diamond currently on auction. It is second only to the 118.28 carats D color flawless oval diamond sold by Sotheby's Hong Kong in 2013, when the diamond fell for a high price of 30.8 million US dollars.
Looking at the auction history, so far, only seven D-color internally flawless (or flawless) diamonds of more than 100 carats have been on the auction market, and the number is very small, and this top diamond is the eighth on the auction market.
What's more worth mentioning is that Sotheby's auctioned this huge diamond with "no reserve price" for the first time! Not only a giant diamond of such perfect quality, but even any artwork or handicraft with extremely high intrinsic value has never been bid without a reserve price, so this auction is an unprecedented attempt in the history of auctions!
It is said that the bidding scene on that day was also quite exciting, and the bids soared from 1 Hong Kong dollars to 100 million Hong Kong dollars. In the end, it was won by a private Japanese collector for 121.6 million Hong Kong dollars.